Southland Electrical Supply offers rebuilt and reconditioned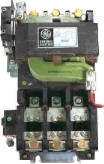 GENERAL ELECTRIC CR306 STARTER
General Electric motor starters and contactors. Our motor starters are guaranteed and high quality. Please read below and contact us with any questions.
Sizes 00-7 Open Enclosed NEMA-1, 3R, 12, 4X
AC Contactors
Magnetic Full Voltage Motor Starters
Magnetic Full Voltage Reversing Motor Starters
AC Automatic Transfer Switches
Part Winding Starters
Wye-Delta Starters
Reduced Voltage Starters
Multi Speed Starters
Combination Starters
Combination Multi Speed Starters
We have and extensive inventory of General Electric control parts and stock: contactors, starters, coils, heater elements, auxiliaries, replacement contact kits, push buttons, enclosures, operators etc.
THE SOUTHLAND ADVANTAGE:
EXPERIENCE, LOW COST,
IN STOCK AND HARD TO FIND
NEW AND RECONDITIONED
PARTS AND ACCESSORIES